Al Franks Car #89
Me, "helping" Dad. I probably wasn't much help, but he never said so, and never discouraged me.

Dad, with a torch!! Changes are coming...

These pictures from the backyard truly reveal the roots of Backyard Racing.
A name Dad thought up when I was Drag racing. Very appropriate!!
Dad and Dave Chase,,,, bumpers locked in battle.
If you look real hard you'll see Al Franks in the B feature results in the left article and in the C feature results in the right article.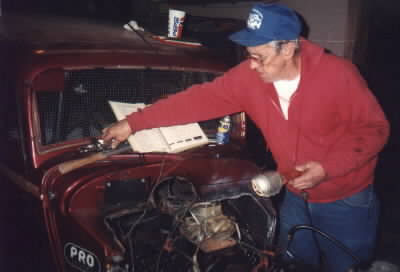 Dad, in '98, three years before he died. Helping as always.