Playland Speedway History
NOTE: Some of these images are HUGE!! They may take a LONG time to load with a dial-up connection.
These photos and articles were taken from the Nonpareil and World Herald papers and placed in a scrapbook provided by Bob Matson.
Click on text links or pictures for articles:
Various views of the old park
Gasoline alley and track entrance
From Larry Osborn: Dan.. here are 2 pictures I found that shows Playland in 1952. That was the year of the big Missouri River flood. Thought you might think it was interesting. first picture and second picture.
Playland resumes racing after construction.
Demolition for I-480 construction
Playland re-opens as a race track only facility
History of Playland with Lee Barron's comments
Historical article on dog track beginnings
Historical articles and items from Frank Vandoorn.
1971 Playland Programs from Larry Osborn
1972 Articles from Larry Osborn- The STRIKE YEAR!



Note from Dan: Roy Robertson mentioned in this article is my uncle.
Historical articles and items from Frank Vandoorn.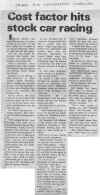 Contractor Takes Over Playland Speedway
Front and back of L&G era flyer. (front) (back)
Playland constructed an 1/8 mile track for 1976 Modified Midgets
Races cancelled by protests and fights!
Article on local drivers, Kosiski, Martin, Zdan, Chase
Last race at Playland
Last Playland Flyer... Goodbye and Thanks!
Article on demolition of Playland (part1) (part2)
Article on Playland reunion held August 12,1995. (part1) (part2)