Playland Memories:
Jim Taggart
Don Rasmussen Dave Hubbard
Drivers Pages HERE:
Playland Stuff:
Memorabilia Brochure and Centennial Program
History Page Lots of info!
1956 NASCAR RACE Did you see it?
Playland Cars Today Where are they now?
Race Results Most of 68-77 are here.
Track Photos Do you have any?

If you know the location of ANY of the old Playland cars, coupes, Bronco cars, Super stocks, Get pictures and send them to me! Let's get them out of mothballs (or ditches) and onto the track. e-mail at playland@excite.com
GOT ONE!! I just bought a Playland Chevelle. Is it the last survivor??
Dan Franks' Tribute To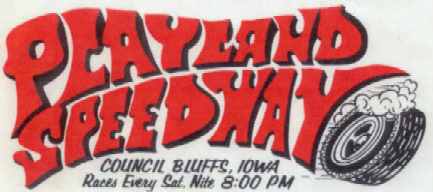 Council Bluffs, Iowa
That's Right!! The playland website has gone DOT COM!!
is UP and RUNNING!
Check it out, no more pop-ups and banner ads clogging up your view! Get to know your fellow Playland fans or renew old friendships!!
DRIVER PAGES ARE NOW ON THE NEW WEBSITE!!
Press the f5 refresh key to be sure you have the latest changes!!
Welcome to my website, a tribute to the late, great Playland Speedway. With the help of many good folks, we hope to bring you a glimpse of the storied past of Council Bluffs, Iowa's only raceway.
Playland Speedway was originally a dog track. The dog track was started by none other than gangland czar Meyer Lansky, who in 1941, spent $50,000 building the Council Bluffs dog track and grandstand. The Dodge Park Kennel Club was it's name. He ran dog racing in 1941, 42 and 43, until the mayor shut it down.
The facility sat idle until it became a dirt track in 1947. "Organized" stockcar racing began in 1949. In 1948 an amusement park and midway were added, including a 3/4 mile long roller coaster! The track was paved around 1954.
In 1956 the NASCAR Short Track Championship Race was held in C.B. The entry and time trial sheet is on this site. I was going to add it to the history page, but it deserves it's own page! If you didn't know about this race, wait till you see who was there! Thanks Lee Ackerman of the Nebraska Racing Hall of Fame for the sheet.
Sixty acres of the park were condemned by the state to build the I-480 bridge in 1964-66. The 3/4 mile long wooden coaster was demolished. The bulk of the major rides were sold at auction. Some would later go to Frontier City in Oklahoma City, a park the Sluskys owned. It is still there.
When the track reopened in 1966, rides included the Wild Mouse, bumper cars, Tilt-A-Whirl and of course the usual games. It was a great place to go as a kid.
The "Bronco" class was introduced in 1967. The season started with 12 broncos and it ended with 60! Playland Speedway's biggest year, based on car count and attendance was 1968. I was a California Marine when the track was closed in October 1977.
Much of the history of the park and track can be found on the history page of this website.
Many famous local racers graced the racing surface of Playland Speedway during it's history. Tiny Lund, Bud Burdick, Glen Robey (8-ball), Elvin "Junior" Heiman (66), Dick Gappa (77), "Wild Bill" Martin, Dave Chase (31), Paul Zdan (10), Frank "the Flying Dutchman" Vandoorn (30), Larry Brown(16) , Bob Matson (71), Larry Jiskra (70), Sonny Miller (109), Ron Tilley (56), Russ Dilley (22), Ron Hoden (65), John Beaman, Frank Prideaux (67), Mel Sorensen (93), Bob Jura (72), John Ernest (73), Jerry Boyd (52), Ron Wolfe "the Asphalt Animal"(76), Chris Hoeppner (84), Bob Rollins (80), Claude "Sonny" Brown (67) and of course my Dad, Al Franks (89). You'll find many names on this site.
More pictures coming as soon as I can find them!!
Click to visit the Backyard Racing Page.
SUPPORT BACKYARD RACING....
If you want a homepage but don't know how to go about it, contact us for help. Webpages link you and your family, statewide, nationwide and worldwide!
If you want a website of your own, click here! for details.
Contact race66@gotra.com
© Copyright by race66.tripod.com 1999-2003.
All rights reserved. Reproduction of material appearing on this Web site is strictly prohibited without express written permission of the webmaster.This site designed and maintained by Dan franks race66@gotra.com